Blog
Why would you need an Interior Designer?
Friday 25 September 2015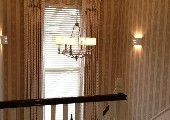 One question often asked is why do I need an Interior Designer?
The simple answer is that hiring an Interior Designer can be a very wise decision as they share a purpose for everyone. Whether you are planning to redesign one small room in your home or want to redecorate the entire house. Perhaps you have no idea where to begin and just need some help in putting your ideas together or when you simply do not have the time to put schemes together due to busy day to day schedules.

An Interior Designer can and will save you money, which admittedly sounds ridiculous when you consider the additional fees that will be incurred for hiring a designer. However, when you consider that they will help you avoid mistakes which could be costly, will give you a broader sense of what is available and put schemes together that you may not have thought of or put another way, take you a little out of your comfort zone and offers an extra set of experienced eyes, that are trained to see and notice things that you may not.

A designer can keep you on budget and save you time and effort. They know where to go for resources and for anything and everything related to your home. Just think of how much time this will save in researching products, brands and prices? Bucket-loads...as we have all the information to hand and if not we will do the research for you.

Additionally, there are a wide range of products available to designers that are not available to the general public, such as curtain fabric, upholstery fabric, wallpaper, rugs and poles etc. which means the choices and the options available to you are far more vast and by culminating these resources a designer can help to make your space look more collected and pulled together.

In Interior Design business for over 20 years means making many contacts in the building trade; such as electricians, plumbers, tilers, painters and cabinet makers, all of whom do a fantastic work time and time again for clients and they are readily available and save the headache of trying to find a reliable contractor.
As an Interior Designer in Cork, the focus is to help build a stronger gap between contractors/architects early in the project and so avoid design mishaps, as it is crucial that furnishing and lighting needs are addressed before construction to ensure proper placement of outlets i.e. sockets, switches, pendent fittings etc.

Working as an Interior Designer in Dublin and Cork to help create the ever elusive wow factor that you have always be looking for, drawing on expertise and training to look outside the box with each project. The best compliment to get from a client at the end of a project is "we would never have been able to achieve this without you" and " hiring an interior designer has been a very worthwhile investment".

For more information or to book a consultation, please contact me on info@hoganinteriors.ie